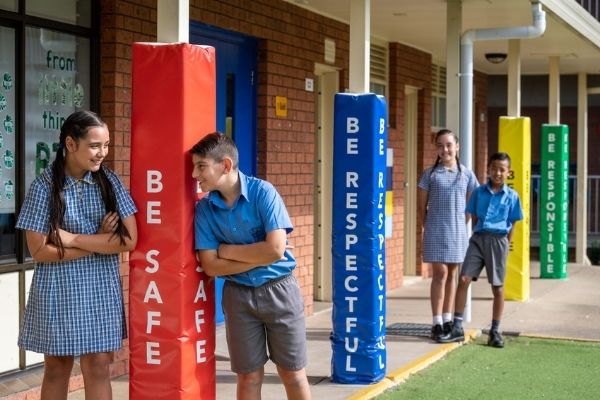 St Joseph's is a product of the modern era of Catholic schools which have developed after the crisis period of the 1960s. It was not established by a Religious Congregation, but by the parish and the CEO, Sydney, which has general jurisdiction over the developing Archdiocesan system of schools. (The Federal and NSW Governments had recently agreed to supply essential funds for Catholic schools.) 
In 1973 the parish of St Joseph's was established from the older parish of Liverpool, to serve the growing residential area of Moorebank. The parish priest,  Fr Terence Duggan, and Archdiocesan authorities decided that a parish school was warranted, and a funding grant was obtained from the Commonwealth government. Planning was undertaken by the CEO. 
On 13 April 1975 St Joseph's School was officially opened by the Prime Minister,  Mr Gough Whitlam, and blessed by Cardinal James Freeman. The school began that year with 27 Kindergarten students and the founding Principal, Miss Veronica Martin and class teacher, Miss Barbara Thurtell. The original building had six classrooms, and classes were added each year until 1981 when it catered for girls from K-6 and boys from K-4. 
By 1979 it had grown to two streams. This growth called for more accommodation, and in 1979-80 a block of four classrooms was added, as well as an administration building at a total cost of $206,000; $100,000 from the Commonwealth government, and $106,000 from the parish. Due to increased local support the parish decided to add a second storey immediately at a further cost of $58,000 for four additional classrooms paid for by parents and parishioners. A further resource was the provision of a school library in 1986.
Enrolments in 1985 were 439. In 1990, with the closure of the primary section of Patrician Brothers' College, Liverpool, boys were retained to Year 6. 
A very special 21st birthday celebration for St Joseph's was held in 1996 at the Liverpool Catholic Club. 
In 2002 a major capital development program costing $1.8m was completed which provided new and refurbished facilities for both staff and students. 
St Joseph's continues to maintain an enrolment in excess of 400, and in 2021 has 425 students and 30 members of staff.